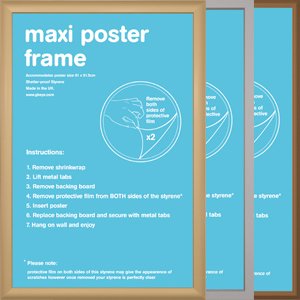 Frames
Since we began manufacturing frames several years ago, we have seen an increase in sales year on year and are now able to offer our largest selection of sizes, mouldings and colours. Our in-house manufacturing facility has expanded from a small area in our main DC to a dedicated state of the art production line situated less than a mile from GB eye's head office in Sheffield, which allows us to offer such a wide variety of framing options and meet the ever-growing demand for pre-made frames. Our on-site facilities have also allowed us to quickly react to customer requests, resulting in faster turnaround and shorter lead times, whilst retaining high levels of quality control and remaining competitive on price.
We currently offer 5 frame colours and 4 moulding profiles in 18 standard sizes and are pleased to announce that walnut and gold colour options will soon be available! All our standard frames are finished with styrene which is both shatter-proof and lightweight, whilst ensuring they remain great value for money.
In addition to our standard framing options, we also offer a bespoke framing and mounting service for both high- and low-volume orders. There are additional frame mouldings to choose from, along with a wide variety of mounts available for this service. We also have a unique memorabilia framing facility which allows us to frame numerous items including shirts, boots, gloves and caps; whether it's a whole batch of items or a single request, we can help! Just speak to your sales representative about any of our bespoke framing services.
To view our new Frame Catalogue please click here.