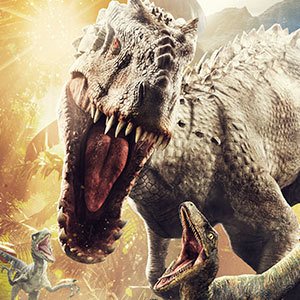 Jurassic World
The latest instalment of one of the most well-loved and well-known movie franchises is nearly upon us! The film that has been over a decade in the making – Jurassic World!
Chris Pratt (Guardians of the Galaxy, Parks and Recreation) stars as the movie's protagonist, Owen Grady, a park employee who is conducting behavioural research on the infamous Velociraptors. Set twenty-two years after the events of the first film, Isla Nublar is now home to a fully functioning dinosaur theme park, as envisioned by John Hammond.
But with visitor rates declining, the Parks geneticists create the first genetically modified hybrid Dinosaur to boost visitor attendance and enthusiasm. "You just went and made a new dinosaur? Probably not a good idea" – Quite well put, Owen Grady! Obviously, these geneticists have learnt nothing from the disastrous events of previous years which lead to the park's existence.
Spliced together from four different species, the hybrid Dinosaur known as Indominus Rex soon escapes (naturally) and pursues its deadly rampage across the theme park. So it's up to Owen Grady and his Velociraptor biker gang to save the day, and stop the Indominus Rex from chowing down on theme-park goers and dinosaurs alike.
Jurassic World is the fourth instalment in the Jurassic Park film series and was initially set to begin production in 2004, with Executive Producer Steven Spielberg officially confirming a fourth film as early as 2002. After numerous development issues and script revisions, we all hope the wait has been worth it! The film will be released from June 12 2015.
GB eye have a great range of posters and merch available here.