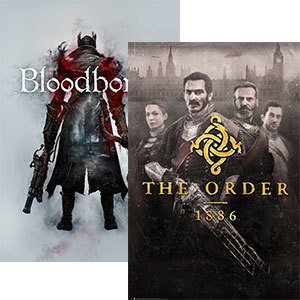 Q1 Gaming
Q1 Gaming
GB eye's fantastic range of gaming posters, merch and framed photographic continues to grow with our license roster. 2015 is set to be an exciting year for gaming, with some long awaited games due for release and we're all expecting something great! Q1 shouldn't disappoint – it has plenty to offer with new titles Bloodborne and The Order 1886, along with Battlefield Hardline which is the latest instalment in the Battlefield franchise Battlefield Hardline. All are set to be huge successes and immediate hits worldwide with gamers.
The Order 1886
The Order 1886 is one of the most highly anticipated games of 2015. The game is exclusive to PlayStation4, developed by Ready at Dawn and SCE Santa Monica, and published by Sony. Announced at E3 in 2013, the single-player action-adventure has been in the works since 2010, and was initially set to be one of the earlier release titles for PS4.
Set in an alternate version of London, the plot features a new twist on the popular legends of King Arthur and the Knights of the Round Table to include half-breeds who are a combination of animal and man. The story is of the ongoing war between man and these half-breed monsters, and the conflict between the Knights and the lower classes.
Long awaited, The Order 1886 is released on 20th February, so make sure you are prepared and get your products here, including posters and merch. More coming soon!
Battlefield
Battlefield Hardline is the latest instalment in the Battlefield franchise – available on all platforms including, PlayStation, Xbox and PC.
The first-person shooter has single-player and multiplayer options, but unlike former Battlefield games, the focus of the setting in Hardline will shift from the military to the police and their "war on crime".
The game is set in Miami, and it will feature new game modes such as Heist, Hotwire Mode, Rescue and Blood Money. Players will also have access to both Police equipment and military-grade weapons and vehicles.
The game will be released worldwide March 19th – products coming soon!
Bloodborne
Another hotly anticipated game for 2015 – Bloodborne! Exclusive to PlayStation 4, and directed by Demon's Souls and Dark Souls' Hidetaka Miyazaki, Bloodborne has already been compared to these other highly successful games.
In the City of Yharnam, the player must navigate the streets and overcome the malformed inhabitants to survive in this action role-playing game. With both single player, and online co-op (multiplayer) options for game play, the game is set to be an immediate hit for the PlayStation platform.
The game is released on March 27th 2015. GB eye already have products available here, with more to come.