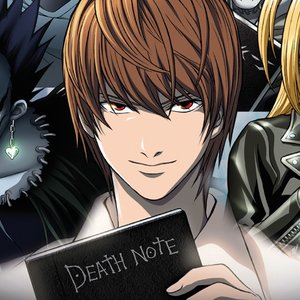 Anime
Our unique Amine range continues to expand and we can now offer Death Note, Dragon Ball Z and Tokyo Ghoul products alongside many other titles. With posters, collector prints, mugs, coasters, note books and a whole host of merchandise this is a ground breaking offering and is creating a real buzz in retail.
Death Note follows Light Yagami, a high school student who discovers a supernatural notebook from a shinigami named Ryuk that grants its user the ability to kill anyone whose name and face they know. The series centers around Light's subsequent attempts to create and rule a world "cleansed of evil" as "God" using the notebook, and the efforts of a detective known as L to stop him.
Dragon Ball Z follows the adventures of the protagonist Goku who, along with his companions, defends the Earth against an assortment of villains ranging from intergalactic space fighters and conquerors, unnaturally powerful androids and near indestructible magical creatures. While the original Dragon Ball anime followed Goku from his childhood into adulthood, Dragon Ball Z is a continuation of his adult life, but at the same time parallels the maturation of his son, Gohan, as well as the evolution of his rivals Piccolo and Vegeta from enemies into allies.
Toyko Ghoul follows Ken Kaneki, a college student who barely survives a deadly encounter with Rize Kamishiro, his date who reveals herself as a ghoul, a human-like creature that hunts and devours human flesh, and is taken to the hospital in critical condition. After recovering, Kaneki discovers that somehow he underwent a surgery that transformed him into a half-ghoul by transferring some of Rize's organs into his body, as she died when she attacked him, and just like them, he must consume human flesh to survive as well. With no one else to turn to, he is taken in by the ghouls who manage the coffee shop "Anteiku", who teach him to deal with his new life as a half-human/half-ghoul, including interacting with ghoul society and its conflicting factions, while striving to keep his identity secret from other humans.
To view all Anime products click here