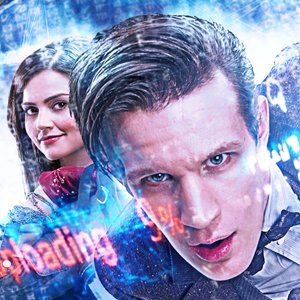 50 years of Doctor Who!
2013 marks the 50th anniversary of the world's longest running sci-fi show, Doctor Who! Since the show was first broadcast in 1963, it has become a firm television favourite, and is now considered a national institution and international success with legions of fans, known as 'Whovians', across the globe.
The show follows the adventures of the Doctor – a time-travelling humanoid alien – as he explores the universe in the TARDIS, a spacecraft in the shape of a blue British police box, a common sight in 1963 when the show first aired. Over the years, he has traveled with a number of companions, and together they seek to save civilisations, battle injustice and help ordinary people. However, they are often faced with a number of adversaries, the most famous of which, the Daleks, have become an instantly recognisable sight, and have sent children diving behind the sofa for years with their robotic cries of 'Exterminate! Exterminate!'.
So far, there have been 11 incarnations of the Doctor, with the transition from one Doctor to the next occurring when their current body is worn out, and it regenerates into a new one. Each has their own particular quirks and talents, but ultimately, they share the same basic personality, memories, experience and consciousness. However, their appearance differs somewhat; from the white-haired old man that was William Hartnell's First Doctor, to Tom Baker's scarf-wearing Fourth Doctor and Matt Smith's bow-tied Eleventh, each Doctor has their own distinctive look.
And so to celebrate half a century of adventures with the Doctor, a special anniversary episode will be aired 50 years to the day since the first episode was broadcast. So far, details of the episode's content have been shrouded in secrecy, although the closing scenes of Series 7 hinted at what may be coming.
In the meantime, why not get your fix of your favourite Timelord by taking a look at our extensive range of products. Be it our latest maxi poster of the current Doctor and his companion Clara, framed photographics featuring each individual Doctor or merchandise including button badges and temporary tattoos, there will surely be something for you or the Whovian in your life to choose from!
Click here to view our full range of Doctor Who titles