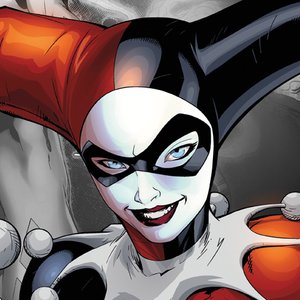 Harley Quinn
Harley Quinn was first introduced as a DC character in September 1992. Created by Paul Dini and Bruce Timm, she made her debut on Batman: The Animated Series, before featuring in comics.
Dr. Harleen Quinzel was once a psychiatrist at Arkham Asylum who developed an unhealthy fascination and obsession with long-time Batman nemesis, and Crown Prince of Crime, the Joker. After helping her puddin' Mr. J escape Arkham asylum where he was an inmate, she became the Joker's accomplice and on-off girlfriend.
The always humorous, and often a little mad Harley Quinn, is often found causing chaos and trouble in Gotham City, along with best gal pal Poison Ivy, and mysterious jewel thief Catwoman. The trio's chemistry proved so popular the Gotham City Sirens comic series was created for DC's most notable female super villains and anti-heroine's.
Remaining one of the most prominent DC female characters, Harley Quinn also features in many DC based video games including the upcoming Batman: Arkham Knight. Harley will be portrayed by Margot Robbie in the film adaptation of Suicide Squad, set for release in 2016.
GB eye have some fantastic products already available here for Harley Quinn, including posters, and collector prints. Keep an eye out for more in the coming months, including more posters and wall art, key rings and other great merchandise.