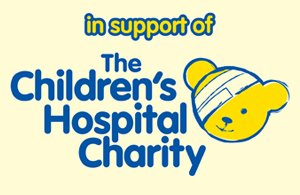 Supporting Local Charity
GB eye are excited to announce our new partnership with The Children's Hospital Charity as an official supporter of this amazing charity. After making donations from raffles and other fund raising activities over the Christmas period we will be working together to raise much needed funds, increase awareness and of course product donations to some very special children.
The Children's Hospital means so much to so many local people, including myself it is great to be able to give something back to an organisation that has helped so many young people. Supporting such a relevant charity and seeing the difference we can make has already been incredibly rewarding and we look forward to being part of such a special partnership" Nicola Hallam, Product and Marketing Manager for GB eye.
The Children's Hospital, Sheffield, is providing world-class care to children from across the UK and beyond every day. It is one of only four dedicated children's hospitals in the country.
Since 1976, The Children's Hospital Charity has supported the hospital, providing specialist medical equipment. opening new facilities, enhancing the environment and funding vital research.
Tchad Western, Corporate Fundraiser said "We're thrilled that GB eye have joined Team Theo! It is brilliant to have such a successful Sheffield company on board work with us to continue to build our success story".
GB eye continue to be a key supporter of The Light Fund, which holds events throughout the year and makes donations to nominated charities on an annual basis.
For more information on The Children's Hospital Charity click here