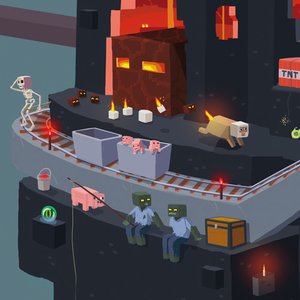 Minecraft Mania!
Minecraft is the latest online gaming craze sweeping the globe, and with players ranging from young children to adults who should probably know better, our newest line of posters should appeal to those of all ages!
Since its inception in 2009, Minecraft has grown from a small, independent game to a worldwide phenomenon, selling more than 20 million copies in less than 4 years. Players create worlds for their online characters to inhabit by breaking and placing blocks together to build structures with infinite possibilities. However, when night falls, players must protect themselves and their creations from the hostile mobs that roam the plain, which include Zombies, Spiders, and Creepers – exploding creatures who sneak up on players, threatening to destroy them and their buildings.
The game is now available on several platforms, including Android and iOS, allowing gamers to develop their worlds on the move, 24 hours a day. To view our current range of Minecraft posters, click here.