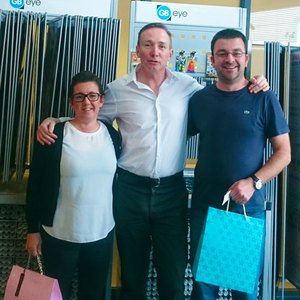 GB eye staff achievements
The Directors and staff would like to congratulate two employees of GB eye on reaching a momentous milestone with the company. Over the past few weeks both Gary Hales (Export Sales Manager) and Tracey Allen (Company Buyer) became members of a very exclusive club when they became the first two members of staff after the board of Directors to achieve 20 years' service with the company.
The Board extended their congratulations and appreciation of the hard work, dedication and loyalty shown by both employees at a gift presentation this week.
Over the years Gary has built up some amazing win/win relationships with our key international customers, whilst Tracey has been watching the pennies by getting the company the absolute best deals in Procurement.
MD Charlie Chester said "It is employees like Gary and Tracey that make GB a world class company and this is definitely something to be celebrated". 
Finally, the Board of Directors and all staff at GB eye would like to say "Well done Tracey and Gary, here is to the next 20 years!"