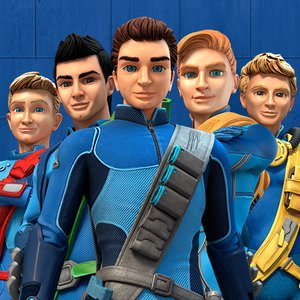 Thunderbirds Are Go!
Standby for Action… Thunderbirds is back on TV screens from spring 2015, with a new look, new characters and new title to incorporate the popular catch-phrase. Thunderbirds Are Go! is ITV's upcoming CGI/live-action remake of the popular 1960's show.
Not everything had changed from the original though, with the familiar tale of Jeff Tracy who creates an emergency response service called International Rescue remaining the focal plot for this updated TV show. The show will follow Jeff Tracy's sons, the five heroic Tracy brother's in their exploits as pilots and field agents for International Rescue, which deals with any crisis on land, at sea, in air or space.
The show will feature big names including Rosamund Pike as Lady Penelope, Game of Thrones star Thomas Brodie-Sangster as John Tracy, as well as original cast member David Graham who will reprise his role as the chauffeur Parker.
Premiering in the UK on April 5th 2015, Thunderbirds Are Go! is set to be a hit and a second season has already been picked up for 2016/17.