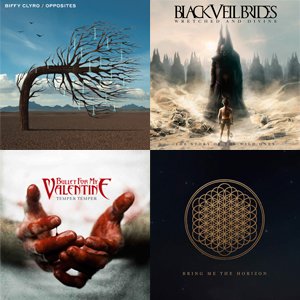 Upcoming Albums and Tours
Biffy Clyro's album, 'Opposites' is available now, and the Scottish Trio will be playing shows across the UK and Europe in February and March in support of the album. To view our Biffy Clyro framed album cover click here. More products coming soon!
American five-piece, Black Veil Brides, released their third offering, 'Wretched & Divine: The Story of the Wild Ones' on 7th January, and will be kicking off their UK tour on 3rd February in Cardiff. Our fantastic range of posters and merchandise including badges, stickers and temporary tattoos can be viewed by clicking here.
Welsh metallers Bullet For My Valentine will release their latest album, 'Temper Temper' on 12th February and will be starting their UK and European tour in Birmingham on 12th March. To see GB eye's range of posters and framed product, click here.
Bring Me the Horizon's hotly anticipated new album, 'Sempiternal' is due for release on 29th April and will be playing several dates across the UK in April and May. Bring Me the Horizon posters and merchandise can be found by clicking here.