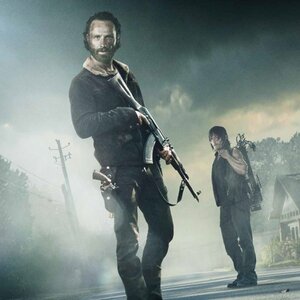 The Walking Dead
TV's most popular horror-drama, The Walking Dead is back on screens for the second half of Season 5, and the comic-book adapted series continues to keep fans in suspense.
The first half of Season 5 saw plenty of the death and mayhem The Walking Dead is notable for, and introduced some characters from the comic series. Rumours are flying about what we can expect from the Season 5 finale, and it looks like its set to be something huge. So far, the second half of the season has already introduced the new location of the Alexandria Safe Zone, but the big question everyone seems to be asking is about the next big antagonist for the show. Will the most notorious villain in the comic series, the brutal character of Negan and his group of followers The Saviours, turn up? You'll have to tune in to see!
Andrew Lincoln (Rick Grimes) recently dropped a few hints about a new antagonist in an interview, and it has been revealed the final Season 5 episode will be extra-long, running for 90 minutes.
The Walking Dead Season 5 finale will air in April 2015.
While you wait for the highly anticipated season finale, check out our current range of products here, including posters, merchandise, mugs and key rings. Many more products coming soon!